How much do All-on-4 implants cost in Turkey?
All-on-4 dental implants cost in Turkey varies between € 3000 and € 5000. The number of implants needed, the patient's bone state, the brand and quality of the implants, the dental office, and the dentist's experience all play a significant role in the cost of an all-on-four dental implant surgery. And this full teeth implants cost often includes the consultation; implant placement, temporary and final prosthesis, and follow-up appointments.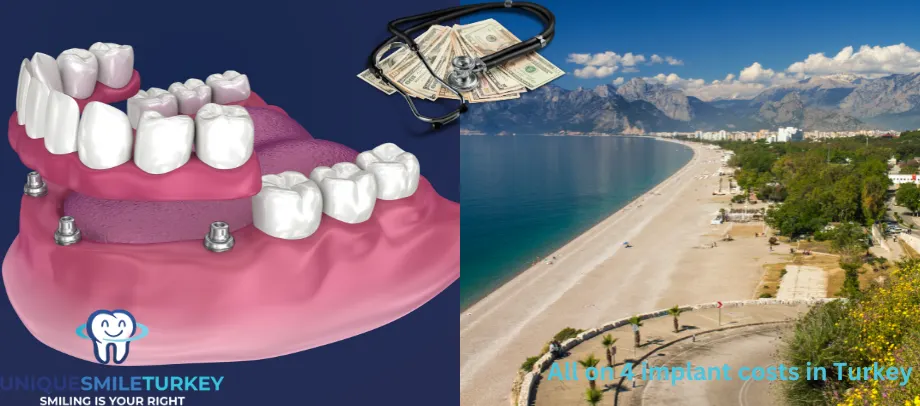 It's important to remember that the cost may vary from one dental clinic to another, and some clinics may offer package deals that include the entire treatment process.
After speaking with our dentists, the exact cost of the treatment will be determined. At this point, the patient's preferred brand and material quality will directly affect the cost. The all-on-four Turkey implant technique costs less than traditional maxillofacial surgery.
Since prices can change over time, contact dental clinics directly or visit their websites for the most up-to-date information on All-on-4 dentures costs in Turkey.
How much is All-on-four implant price in Turkey and Europe?
While Turkey All-on-four implant prices are about 3.000-5.000 Euros in Turkey, these costs range from 9,500 and 12,000 Euros in Europe. Turkish dentists are doing extremely effective research on dental health, and their accomplishments are well recognised throughout Europe. Due to the expertise of our professionals, over 100,000 foreigners annually choose our nation to fix teeth in Turkey. There is a wide range of prices for all-on-four implant Turkish teeth restorations in Turkey. These prices are affected by a number of factors, including the dental clinic, the surgeon's experience, the quality of the prosthesis, and the brand of implants used.
How much do All-on-4 dental implants cost in the UK?
All-on-4 dental implants cost in UK varies between £ 12000 and £ 17000 per one arch. The consultation, CBCT scan, and X-ray inspection, as well as implants, abutments, temporary dentures, and final prosthesis are all included in this pricing.
Who is All-on-four suitable for?
Individuals who have lost most or all of their teeth in one dental arch (either the upper or lower jaw) is suitable for All-on-four. In general, patients must:
be above the age of 18,
have completed jaw and facial development,
be in excellent general health,
have no wound healing concerns,
have a jawbone suitable for dental implant surgery.
have lost all of their teeth,
have healthy gums
How long does an all-on-4 dental implant procedure take?
All-on-4 dental implant procedure can take about 6 to 9 months, from the first visit to the dentist to when you get your new teeth. The complexity of the case, the patient's oral health, and the level of competence of the dental practitioner can all affect how long an All-on-4 dental implant process takes. Generally speaking, the complete procedure might take several months, from the initial consultation to the implantation of the final prosthesis.
What implants are used in the All-on-Four in Antalya?
The All-on-4 in Antalya typically involves using dental implants made of titanium. Titanium implants are extensively employed in dental implantology for their compatibility with living organisms, robustness, and capacity to merge seamlessly with the jawbone via osseointegration.
The specific type and brand of dental implants used in the All-on-4 Antalya may vary depending on the dental clinic or oral surgeon. Many reputable dental clinics in Turkey use well-known implant brands with a proven success and reliability track record.
Some popular and widely used dental implant brands worldwide, including in teeth surgery Turkey, include:
Nobel Biocare (Switzerland)
Straumann (Switzerland)
BioHorizons (United States)
MIS Implants (Israel)
Zimmer Biomet (United States)
Ankylos (Germany)
Astra Tech (Sweden)
Neodent (Brazil)
Dentsply Sirona (United States)
Is All-on-4 implant painful?
No, the All-on-4 implant is not painful.
Are All-on-four dental implants comfortable?
Yes, all-on-four dental implants are comfortable. Comfort is not an issue with all-on-four dental implants. All-on-4 dental implants might be a pleasant and robust choice for those who have lost teeth. The implants are strategically placed to hold a full set of artificial tooth, which may improve chewing and speaking abilities. However, comfort may be affected by factors unique to each patient, including bone density, recovering from dental implants period, and adaptation to the new prosthetic teeth. The best possible fit and adjustment can only be achieved through close collaboration with our trained prosthodontist.
Are All-on-four dental implants removable?
No, All-on-four dental implants are not removable. They are meant to be permanently anchored in place and serve as a substitute for missing teeth. Since the implants are secured to the jawbone, they are as stable and practical as real teeth.