Is it worth going to Turkey for dental implants?
Yes, it is worth going to Turkey for dental implants. Turkey is a well-liked location for dental tourism, and the nation is home to a sizable number of renowned dental practises that provide fake tooth implant. Turkey's success rate for dental implants is comparable to that of other nations.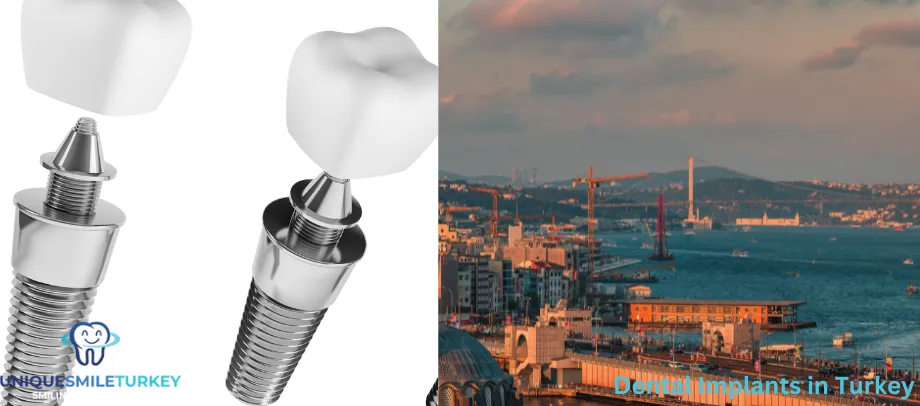 The following elements contribute to the safety of dental implants in Turkey:
High-quality materials
Titanium is one of the high-quality materials utilised to make the dental implants used in Turkey. Because of their biocompatibility, these substances are well tolerated by the body.
Surgeons with expertise
The dentists Turkey and surgeons who place dental implants have years of training and experience. They've had a lot of dental implantology training.
Modern facilities
The dental offices in Turkey that provide dental implants are equipped with cutting-edge technology. The use of the most modern equipment at these facilities guarantees the efficiency and safety of the operation.
Are dental implants safe in Turkey?
Yes, dental implants are safe in Turkey. Nonetheless, a number of variables affect the security and efficacy of a dental implant operation in Turkey:
Qualified Dental experts
The training and expertise of the dental experts doing the treatment determines the safety and success of dental implants. Selecting an oral surgeon or dentistwith extensive training and expertise in implant dentistry is crucial, not just in Turkey but also in other countries.
Hygiene and Sterilisation
In order to avoid infections and difficulties, it is imperative that the dental clinic uphold strict standards for hygiene and sterilisation.
Material Quality
The materials and dental implants used in the process should be of a calibre that satisfies international standards. Reputable dentistry practises in Turkey frequently utilise materials and implants from reputable producers.
Patient Evaluation
It is essential to perform a comprehensive assessment of the patient's oral health, including bone density and implant appropriateness. A customised treatment plan should be created by the dentist based on the unique requirements of the patient.
Follow-Up Care
To track the healing process and quickly treat any concerns, post-operative care and routine follow-up sessions are crucial.
Patient education
To guarantee the procedure's long-term success, patients should be given detailed instructions on how to take care of their dental implants and practise proper oral hygiene.
Reviews and Recommendations
You may learn about a dental clinic's or individual dentist's reputation, safety record, and level of treatment by reading dentist in Turkey reviews, getting advice from reliable people, and investigating these areas.
Licensing and Certification
Verify that the appropriate Turkish authorities have granted the dental clinic and its personnel a licence and certification.
Turkey is known for providing excellent dental treatment at affordable costs, which has attracted a large number of international patients seeking dental implant surgeries there. To guarantee a safe and effective dental implant experience, it is crucial to conduct extensive research, ask questions, and select a reputed and competent dental practitioner or clinic just as with any medical or dental operation.
Is dental surgery in Turkey safe?
Yes, dental surgery is safe in Turkey with skilled and experienced dentists at reputed clinics or hospitals. Turkey attracts medical and dental tourists with its contemporary healthcare facilities, trained staff, and low pricing. Dental surgery safety in Turkey involves several factors:
Highly skilled dental surgeons and experts in Turkey perform a wide range of dental surgical treatments. Select a licensed, certified dentist with a good reputation and suitable experience in your treatment.
Reputable Turkish dental clinics and hospitals have modern equipment and follow worldwide cleanliness and patient care standards.
Reading dental implants Antalya reviews might reveal treatment quality and safety.
You can easily find dental implant before and after photos by doing an online image search or visiting the websites of dental clinics and professionals who showcase their work.
Validate the dental clinic or hospital's certification with reputable organisations.
Good communication with your dentist is crucial. Learn about the process, dangers, and post-care.
Turkey offers affordable dental surgery, however cheap pricing may signal poor care.
Before surgery, schedule a consultation. It lets you meet the dentist, discuss your needs, and ask concerns regarding the process and safety.
Check for post-operative follow-up treatment and clear instructions.
For safe and successful dental surgery in Turkey, study, ask for references, and pick a reputed dental practitioner or facility. If you plan to have dental surgery overseas, see your regular dentist or a dental expert in your own country for guidance.