Prof. Sinan Tozoglu DDS,PhD
Oral And Maxillofacial Surgeon & Implantologist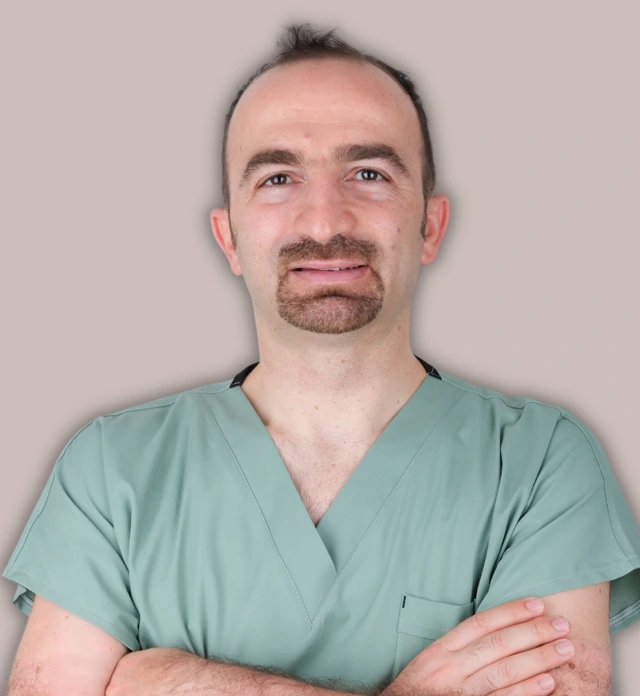 Prof. Sinan Tozoglu DDS,PhD has been practicing dentistry since 1998. He is a well-known specialist in Oral And Maxillofacial Surgeon & Implantologist He became a professor in 2005. During his time at Akdeniz University, he studied Oral And Maxillofacial Surgeon & Implantologist , became the first Associate Dean and played a crucial role in the establishment of the dentistry faculty.
He also established the maxillofacial clinic and became the first chair of oral and maxillofacial surgery department and received lots of awards. During his tenure at Akdeniz University, he worked as a member of the University Senate. He completed a fellowship program at the University of Florida, USA during 2006-2007 years.
Professor Sinan Tozoglu's main areas of interests are conservative and surgical treatment of temporomandibular disorders, orthogenetic surgery, distraction orthogenesis, implant ology and reconstruction, general oral surgery including third molar and dent alveolar surgery, odontogenic pathology (cyst, ameloblastoma, etc.), and jaw fractures.
He participated in the Turkey's first face transplant operations that included jaw transplants an Oral and Maxillofacial Surgeon.
He is not only practicing but also teaching oral and maxillofacial surgery and comprehensive dental care to the dental students, practicing dentists, and oral surgery residency program participants. He has been giving lectures and presentations in national and international meetings and conferences. To better service to his patients, he has been working in collaboration with the leaders of the field from all over the world to improve and implement recent theories into practices.
In 2016, he has started working in private sectors. He believes that the ability to communicate with patients about their oral health needs in their native language is very important for a successful doctor-patient relationship. He explains treatment options to the patients and provides them with as much information as possible in order for them to make the best choice for their oral health.
He is a compassionate provider who is dedicated to his profession. For Prof. Sinan Tozoglu DDS,PhD, the most satisfying part of his job is making patients happy and comfortable, putting a UNIQUE SMILE on their faces!
He believes in practicing dentistry in a relaxed, stress-free atmosphere using the cutting-edge dental technologies, and to provide his patients with the best care in all aspects of oral health.
He Is An Active Member Of:
» ACOMS American College of Oral and Maxillofacial Surgeons (ACOMS),
» European Association for Cranio Maxillo Facial Surgery (EACMFS),
» TAOMS (Turkish Oral and Maxillofacial Surgery Association),
» ACBID (Oral and Maxillofacial Surgery Union Association),
» ITI (International Team for Implantology),
» IADR (International Association for Dental Research)
In his free time, Prof. Sinan Tozoglu DDS,PhD enjoys swimming, sailing, hikingand spending time with his family.
Experience in the USA
1. 2006-2007, Visiting Scholar, University of Florida, College of Dentistry, Oral and Maxillofacial Surgery, six months period. USA (supervisor: Prof. M.F. Dolwick)
2. 2006-2007 Visiting Scholar, Oral and Maxillofacial Surgery, three months period. Baptist Hospital, Miami, USA (supervisor: Prof. Joseph P. McCain)
3. 2006-2007, Visiting Scholar, Pain Center, University of Florida, USA, three monthsperiod. (supervisor: Prof. Henry Gremillion)
4. 2008 Visiting Professor Mayo Clinic Rochester, Mn Usa
Employment, Clinical and Teaching Experience
1. 2016- present private practice
2. 2011-2016 Associate Dean, Faculty of Dentistry, Akdeniz University
3. 2011-2016_Founding Chair, Professor, Lecturer, Clinical Instructure, Supervision of Graduate and Post Graduate Students, in Department of Oral and Maxillofacial Surgery, Faculty of Dentistry, Akdeniz University
4. 2010-2011_ Associate Professor, Lecturer, Clinical Instructure, Department of Oral and Maxillofacial Surgery, Faculty of Dentistry, Ataturk University
5. 2004-2010_ Assistant Professor, Lecturer, Clinical Instructure, Department of Oral and Maxillofacial Surgery, Faculty of Dentistry, Ataturk University
6. 1998-2004_ Research Assistant/Residency, Department of Oral and Maxillofacial Surgery, Faculty of Dentistry, Ataturk University